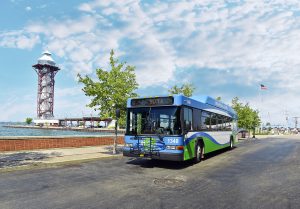 The"e" can get you where you need to go — whether that's to work, school, around town or across town. 
The"e" runs every day except on the following holidays: New Year's Day, Easter Sunday, Memorial Day, Labor Day, July 4, Thanksgiving and Christmas day. 
Buses are handicapped accessible. Each bus has a built-in ramp that lowers to allow those in wheelchairs to board the bus. Once on the bus, there are positions available to secure the wheelchair.
PROGRAMS
TRAVEL TRAINING:
The Travel Training Program is a FREE service for those who want to learn how to travel independently using the fixed-route (the e) or paratransit service (LIFT). We offer group and individual trainings. For the fixed route service (the e), learn how to read route maps and schedules, different bus fare options, how to transfer, and about EMTA's transit tracking options. For the paratransit service (LIFT), learn about the different policies, procedures, and how to make your advance pick-up reservation. Get on board with EMTA and schedule your Travel Training today! Call 814-459-8922 for more information. 
BIKE ON THE BUS PROGRAM: 
Bike on the Bus Program makes it easy for you to transport your bicycle while riding the "e". Bike racks are available from April 15th through November 15th. You are responsible for loading and unloading your bike. Riders use the racks at thier own risks. An adult must assist childen younger than age 12 with loading and unloading their bike. 
SENIOR CITIZEN PROGRAM- FIXED ROUTE:
EMTA recommends that seniors 65 and older interested in riding the "e" for  sign up for the Senior Identification card. By showing this card you may ride any EMTA bus for FREE. An application can be mailed to you or you can fill one out at any of the EMTA offices. A proof of age 65 or older is required to receive the ID card. The following are the acceptable proof of age documents:
Valid Driver's License

Birth Certificate

Armed Forces Discharge or Separation Papers

Passport or Naturalization Papers

PACE card

Statement of Age Verification (issued by Soc. Sec. Office)

Baptismal certificate

PennDot non-drivers license

Veteran's Universal Access Card

Resident Alien Card
For application click
here.
CUSTOMERS WITH DISABILITIES: 
Customers with a disability qualify for the Reduced Fare Program. To qualify, you must complete the Reduced Fare Application. In order to prove a disability you must show a valid Medicare card when applying in person at the EMTA offices or have a qualifying agency complete Part B of the Reduced Fare Program application. Once eligible, Customers will receive a 'Reduced Fare' pass. This must be presented to the EMTA Operator to receive the reduced rates of 80¢ for a one way fare and 25¢ for a transfer. For more information please call EMTA Customer Service at 814-452-3515.
EMTA offers the following assistance for our customers with mobility limitations.
EMTA will transport all wheelchairs regardless of size or weight as long as the ramp/lift and the vehicle can physically accommodate them.

EMTA will transport customers who use respirators, concentrators, or portable oxygen.

EMTA will permit guide dogs or other service animals to accompany a customer on their bus.

Our buses are equipped with a kneeling feature for easier access. If you want the bus to kneel, please ask the operator.

Our buses are equipped with wheelchair ramps. The driver can assist you in boarding or leaving the bus. If you want the ramp deployed, please ask the operator.

Our bus operators will request that customers sitting in priority seating or in a flip-up seat over the securement area vacate these seats when a person with a disability needs to use them.

Our bus operators will allow time for persons with disabilities to board/disembark a vehicle and can assist customers in doing so

EMTA will provide materials in large print, braille and/or audio
For application click

here.