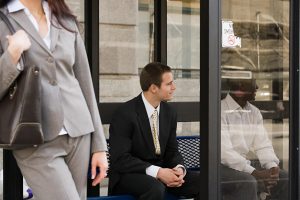 CASH FARE
Regular Cash Bus Fare………….$1.45
Transfer……………………$.35
Bayliner Trolley…………….$FREE
Courthouse Trolley…………………$.50 *
UPMC Shuttle/ Park-N-Ride………$.50 *
*(Free to Courthouse employees, Hamot employees, Erie Insurance employees and anyone with a valid college ID from Gannon University, Penn State Behrend University, Edinboro University, and Mercyhurst University)
DISCOUNT FARES:
31 Day Pass………………$46.00
20-Ride Pass…………$24.00
Tokens……………………..$1.30
5-Ride Ticket………………$6.50
Day Pass……….$2.90 (purchased on bus)
Children 4 years and under are no charge. Limit of three (3) children 4 years of age and under per fare.
Please board with exact fare. Drivers carry no money or tokens.
VENDOR LOCATIONS
Other than our office locations, EMTA has several other locations where product is available. To see your options, click here. EMTA's office accepts cash only when purchasing product. 
REDUCED FARE PROGRAM:
(with the "e" issued ID card) passengers with disabilities ride for 1/2 fare expect for the hours of 7AM-8AM & 4:30PM-5:30PM. Passengers with a Medicare Card will be issued a photo ID card will be issued a photo ID card at the "e" offices at 127 E 14th Street or 208 E Bayfront Parkway. If applicant does not have a Medicare Card, applicant will need a qualifying agency to complete the Reduced Fare application. For more information call 814-459-8922 x 122
Reduced Transit Fare……….$ .70
Transfer……………..$ .20
See application here. 
SENIOR CITIZEN PROGRAM:
EMTA recommends that all seniors interested in riding the "e" for free sign up for the Senior Identification card. By showing this card you may ride any EMTA bus for free. An application can be mailed to you or you can fill one out at any of the EMTA offices. A proof of age is required to receive the ID card. For more information please call 814-459-8922 x 122. 
Senior Citizen (with ID card)…….$FREE
See application here.